Our Products
Flocculant /
Application of emulsion flocculant (MagnafloC LT27) in water treatment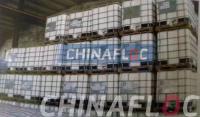 Application of emulsion flocculant (MagnafloC LT27) in water treatment
High efficiency flocculant is mainly used in the treatment of wastewater, and is suitable for the treatment of active, acidic and other soluble wastewater. It can also be used for textile, chemical, coking, papermaking, printing and dyeing, bleaching and dyeing, leather, municipal sewage, industrial sewage station and other wastewater treatment. It can replace bleaching water, activated carbon, polyacrylamide and other agents.
Performance:
1. Efficient flocculant is easy to dissolve in water and can form multinuclear complex to make colloidal particles and suspended particles grow together and form flocculant with large volume, high density and fast settlement.
2. In water treatment, high efficiency flocculant is suitable for a wide range of PH of raw water (PH7.5 ~ 10), the most suitable for slightly alkaline.
3. The high efficiency flocculant has no corrosion effect on pipeline equipment, and has high removal rate of chroma, SS, COD and BOD of sewage. The treated wastewater can meet the national discharge standard, and can provide the final water reuse of the factory.
4. High efficiency flocculant has no suspended solid or sediment, will not block dosing equipment and pipeline, used for wastewater treatment can directly add raw liquid, no secondary pollution.
5. High efficiency flocculant produced flocculant density, soluble in water, less sludge.
6. High efficiency flocculant can be divided into negative ion, cation and non-ionic type, which can be targeted for various wastewater treatment.
Working principle of flocculant:
Flocculation precipitation method is the selection of inorganic flocculant (such as aluminum sulfate) and organic anionic flocculant polyacrylamide ammonium (PAM) prepared into an aqueous solution to add to the wastewater, it will produce a compressed double electric layer, so that the suspended particles in the wastewater lose stability, colloidal particles condense each other to increase the particle, the formation of flocculant, alum flower. When the flocculation body grows to a certain volume, it will be separated from the precipitation of water phase under the action of gravity, so as to remove a large number of suspended solids in the wastewater, so as to achieve the effect of water treatment. In order to improve the separation effect, coagulant aid can be added timely and appropriately. The treated sewage can basically meet the discharge standards in chroma, chromium content, suspended matter content and other aspects, and can be discharged or used as artificial water injection recovery water injection.
Application of flocculant:
1. Urban sewage:
The removal rate of COD and BOD can reach 100 %1 by treating domestic sewage with high efficiency mixed bacteria with flocculation and degradation.
2, building materials waste water:
Construction material processing wastewater containing high suspended solids is also a kind of wastewater that is difficult to treat, such as ceramic factory wastewater, which mainly includes embryo body wastewater and glaze wastewater. The former mainly contains more clay particles, while the latter contains a considerable amount of glaze particles in addition to clay particles. When NOC-1 was added 5 min later, the turbidity of waste water decreased from 1.4 to 0.043. The turbidity of glaze wastewater decreased from 17.2 to 0.35. Turbidity removal rates were 96.6 % and 97.9 %, respectively, and almost transparent supernatant was obtained. The supernatant of tile factory wastewater treated with flocculant produced by Rhodococcus Rubens is almost transparent.
3. Other Applications:
Due to the safety and non-toxic characteristics of water treatment flocculant, it has been gradually used in the treatment of food wastewater and achieved satisfactory results.
In addition, microbial flocculants can also be widely used in the treatment of municipal sewage, hospital sewage, petrochemical wastewater, papermaking waste liquid, pharmaceutical wastewater and other aspects of the process.
To sum up, the development trend of flocculants is from low molecule to polymer, from inorganic to organic and microbial, and from single type to compound type. The pursuit of high efficiency, low cost and environmental protection is the goal of the development of flocculants. It is an important direction of the research and development of flocculants in the future to develop non-toxic or low-toxic high efficiency flocculants, so as to make them no longer cause secondary pollution in the treatment of drinking water and other water related to human activities.
Secondly, it is urgent to develop new flocculant to strengthen quantitative research on flocculant effect and reduce production cost. Under the dual drive of theory and practice, the safe, non-toxic and efficient water treatment flocculant has a tendency to replace the traditional flocculant. Inorganic and organic polymer composite flocculant has been widely developed at home and abroad because of the comprehensive advantages of inorganic and organic, and has become a hotspot of flocculant research.