Our Products
Product Center /
The anionic emulsion polyacrylamide (Magnafloc 120L) can be replaced by a CHINAFLOC EM3020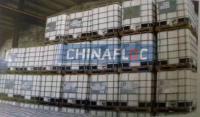 The anionic emulsion polyacrylamide (Magnafloc 120L) can be replaced by a CHINAFLOC EM3020
Magnafloc 120L is a anionic polyacrylamide emulsion with a high molecular weight. Mainly used in the field of water treatment and mineral processing. The CHINAFLOC EM3020 can completely replace the Magnafloc 120L and has a good application effect.
Anionic emulsion polyacrylamide product price reference:
1, anionic emulsion polyacrylamide product price in 15000-21000 yuan/ton, anionic emulsion polyacrylamide ionic degree higher product price is higher, but at this time the need to distinguish is not the higher the ionic degree for customers sewage or sludge treatment effect is better, It is necessary to select suitable anionic emulsion polyacrylamide for different sewage sludge properties, and control the dosage of agents, so as to control the cost of sewage sludge treatment more reasonably.
2, do not just compare the price, choose the right type of products, the dosage of pharmaceutical control in a reasonable range, save the dosage of drugs, and at the same time can achieve the ideal sewage sludge treatment effect is the goal.
Anionic emulsion polyacrylamide dissolution and use method:
Anionic emulsion of polyacrylamide is white solid powder, belong to the organic polymer flocculant, high viscosity, in sewage and sludge treatment process in use, the need to turn the solid powder anion emulsion of polyacrylamide dissolved into a certain concentration of liquid, using anionic emulsion PAM aqueous solution for wastewater treatment, sludge filter dewatering, Anionic emulsion polyacrylamide dissolution method and use method are as follows:
1, anionic emulsion polyacrylamide dissolution: to use clean tap water dissolution, can not use sewage, the normal temperature of water dissolution, water temperature is less than 5℃, the dissolution rate is slow, you can increase the dissolution rate by heating, but not more than 40℃, water temperature is too high will lead to polymer degradation, affect the use effect.
2, anionic emulsion polyacrylamide concentration configuration: one thousand to three thousand, 1 liter of water add 1-3 grams of solid anionic emulsion polyacrylamide. In the configuration process, the concentration of liquid agent can be lower, which is more conducive to anionic emulsion polyacrylamide flocculant solution and sewage mixing, forming a more dense and larger alum flower, good flocculation effect, improve the efficiency of sewage treatment.
3, anionic emulsion polyacrylamide concentration configuration reference factors: if the configuration of solubility tank is small, large capacity, it is recommended to configure 0.3% concentration of liquid; If the selection of anionic emulsion polyacrylamide molecular weight is high, can be configured with 0.1% concentration of liquid; Anionic emulsion polyacrylamide solution is added to the sewage, if because of equipment reasons, the dispersion is not in place to better mix with sewage, the solution concentration can be lower to ensure that the load of the stirring equipment is moderate when dissolved, and the flocculant is better mixed with sewage. Do not use centrifugal pumps to transfer the finished solution to avoid shear degradation of the polymer caused by high-speed rotating blades.
4, solid anionic emulsion polyacrylamide solution configuration method: adding quantitative water in the solution tank, according to the amount of water and concentration calculation of solid anionic emulsion polyacrylamide weight, weighing agents. Turn on the electric stirrer and stir the water out of the whirlpool. The linear speed at the end of the stirrer blade should not exceed 8 m/s to avoid polymer degradation. The stirring speed should not be too slow, so that the polymer particles do not float on the surface of the water, or sink in the water, clumping. Add solid anionic emulsion polyacrylamide to the vortex in the water, pay attention to powder anionic emulsion polyacrylamide particles into the water after dissolution can not adhere to each other, agglomeration. The anionic emulsion polyacrylamide is completely dissolved by sufficient agitation, and becomes a uniform, transparent and viscous solution without visible snowflake lumps.
5. Mixing time is determined according to the following method:
(1) in summer when the water temperature is high, negative and anionic polyacrylamide emulsion stirring 45-60 minutes, non-ionic anionic polyacrylamide emulsion stirring 60-90 minutes;
(2) in winter when the water temperature is low, negative and anionic polyacrylamide emulsion need to stir for about 60 minutes, non-ionic anionic polyacrylamide emulsion need to stir for about 3h.
6, the selection of drug dissolving device: tank to avoid the use of iron container, iron ion is caused by all anionic emulsion polyacrylamide chemical degradation catalyst, in the preparation, transfer, storage of anionic emulsion polyacrylamide solution, to avoid iron ion into. The equipment in contact with the solution is made of stainless steel, plastic, fiberglass or carbon steel coated with resin.
7, anionic emulsion of polyacrylamide additive use: anionic emulsion after polyacrylamide dissolved into solution in the sewage treatment through dosing system into flocculation pool, if used to dissolve in the process of sludge dewatering processing good reagent solution dosing in sludge thickener, enhance sludge concentration, flocculant are researched, and then press filter for pressure filtration dehydration. If anionic polyacrylamide emulsion is used for sewage treatment, the agent solution should be fully mixed with sewage to form flocculation reaction. Generally, anionic emulsion polyacrylamide is used with PAC polyaluminum chloride, PFS polyferric sulfate, PAFC polyaluminum chloride and aluminum sulfate and other inorganic coagulants. With polyaluminium chloride as the case of inorganic coagulant dosing in pool of coagulation, through the hydraulic automatic mixed with sewage suspended solids and PAC polyaluminium chloride to produce charge neutralization, loss of stability, form small alum flowers, after dealing with the concrete pool of sewage into the flocculation pool after dosing PAM anionic polyacrylamide emulsion, further help setting, It helps the small flocs that have formed alum flowers to form larger flocs, which are separated from water under the action of gravity and form precipitation. The water flow after flocculation enters the sedimentation tank for further mud water separation and sludge concentration treatment.
8, negative, anionic emulsion polyacrylamide solid and liquid agents can not be mixed together, can not be used after mixing can not achieve sewage sludge treatment effect.
Anionic emulsion polyacrylamide packaging and storage:
Anionic emulsion polyacrylamide packing 25 kg/bag, plastic moisture-proof film, kraft paper coated bag, can avoid anionic emulsion polyacrylamide moisture.
Anionic emulsion polyacrylamide solid dry powder products should not be exposed for a long time, will lead to damp agglomerations, should be stored in a cool and ventilated dry place.