Our Products
Polyacrylamide /
The anionic polyacrylamide (Percol 727) can be replaced by the Chinafloc A series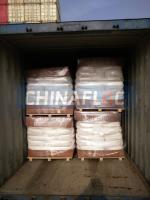 The anionic polyacrylamide (Percol 727) can be replaced by the Chinafloc A series
Percol 727 is a kind of anionic polyacrylamide with high molecular weight and 30% hydrolysis degree mainly used for owater treatment and mineral processing can be replaced by Chinafloc A3018.
Polyacrylamide (PAM) is a linear polymer, the products are mainly divided into dry powder and colloidal two forms. According to their average molecular weight can be divided into low molecular weight (<1 million), medium molecular weight (2 ~4 million) and high molecular weight (>7 million) three types. According to its structure can be divided into non-ionic, anionic and cationic type. The anionic type is mostly water disintegration of PAM (HPAM). Polyacrylamide main chain with a large number of amide group, high chemical activity, can be modified to make many polyacrylamide derivatives, products have been widely used in papermaking, mineral processing, oil recovery, metallurgy, building materials, sewage treatment and other industries. Polyacrylamide, as lubricant, suspension agent, clay stabilizer, oil displacement agent, water loss reducer and thickener, has been widely used in drilling, acidification, fracturing, water plugging, cementing and secondary oil recovery, tertiary oil recovery, is a very important oil field chemicals. Chinese name: Flocculant 3; PAM for short; Polyacrylamide is known as no. 3 coagulant; Polyacrylamide is divided into anionic polyacrylamide; Cationic polyacrylamide; Non-ionic polyacrylamide; Amphoteric polyacrylamide; English name; PAM(acrylamide)
Industry application
(PAM has strong applicability)
1, used in papermaking industry, one is to improve the retention rate of filler, pigment, etc. To reduce the loss of raw materials and environmental pollution; Two is to improve the strength of the paper (including dry strength and wet strength), in addition, the use of PAM can also improve the tear resistance and porosity of the paper, to improve the visual and printing performance, but also used in food and tea wrapping paper.
2, used in the petroleum industry, oil recovery, drilling mud, waste mud treatment, prevent water channelling, reduce friction, improve oil recovery, three oil recovery has been widely used.
3, used for textile sizing agent, slurry stable performance, less falling pulp, fabric breakage rate is low, clean cloth.
4, PAM is also widely used in thickening, stable colloid, drag reduction, bonding, film forming, biomedical materials and so on.
5, used for daily chemical industry, in sleep mask often combined with lauryl polyether-7 and C13-14 isoalkane into a emulsion thickening, emulsifying and stabilizing agent.
6, other industries, food industry, used for sugar cane sugar, sugar beet sugar production sugar juice clarification and syrup phosphorus float extraction. Enzyme preparation fermented liquid flocculation clarifying industry, also used in feed protein recovery, stable quality, good performance, recovery of protein powder to chickens and raising the survival rate of weight gain, no adverse effects of egg production, synthetic resin coating, civil water plugging grouting materials, building materials industry, improve the quality of cement, construction adhesive, caulking repair and plugging agent, soil improvement, electroplating industry, printing and dyeing, etc.
Polyacrylamide classification polyacrylamide product introduction: polyacrylamide (PAM) is a water-soluble polymer, insoluble in most organic solvents, has good flocculation, can reduce the friction resistance between the liquid, according to the ionic characteristics can be divided into non-ionic, anion, cation and amphoteric type four types.
Cationic polyacrylamide use precautions:
1, the size of flocs: flocs too small will affect the speed of drainage, flocs too large so that flocs bind more water and reduce the mud biscuit degree. By choosing the molecular weight of polyacrylamide can adjust the size of the floc.
2, sludge characteristics. Understand the origin, characteristics and composition of the sludge and its proportion. According to different properties, sludge can be divided into organic and inorganic sludge. Cationic polyacrylamide is used for the disposal of organic sludge, relative anionic polyacrylamide flocculant for inorganic sludge, strong alkaline with cationic polyacrylamide, and strong acid should not be used anionic polyacrylamide, high solid content of sludge usually polyacrylamide dosage is also large.
3, flocs strength: flocs should be stable and not broken under shear action. Improving the molecular weight of polyacrylamide or choosing suitable molecular structure can improve the stability of the flocculation.
4, polyacrylamide ionic degree: for dehydrated sludge, different ionic degree of flocculant can be used to do the first test to stop selection, select the appropriate polyacrylamide, so that it can obtain the effect of flocculant, and can make the dosage is less, save money. 5, the dissolution of polyacrylamide: good solubility can give full play to flocculation. Sometimes the need to accelerate the dissolution rate, then you can think of improving the concentration of polyacrylamide solution
Product features
1, flocculation: PAM can make suspended material through electric neutralization, play a flocculation role
2, adhesion: can play a role in adhesion through physical and chemical action
3, resistance: PAM can effectively reduce the frictional resistance of fluid, adding trace PAM in water can reduce the resistance by 50-80%.
4, thickener: in neutral and acidic conditions have a thickening effect, if the PH value of PAM is more than 10 easy hydrolysis, a semi-reticular structure, thickening will be more obvious.