Our Products
Polyacrylamide /
Application of cationic polyacrylamide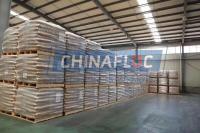 I. Product Introduction:
Polyacrylamide (PAM) is acrylamide monomer polymerization or copolymerization of polymers under the action of initiator, is one of the most widely used varieties of water-soluble polymer materials, mainly used in oil exploitation, water treatment, textile, paper making, mineral processing, medicine, agriculture and other industries, known as "additives". polyacrylamide
(PAM) is soluble in water, almost insoluble in organic solvents, in neutral and alkaline media is characterized by high polymer electrolyte, sensitive to salt electrolytes, and high metal ions can be crosslinked into insoluble gel, due to its molecular chain polar groups, it can adsorb solid particles suspended in sewage, Bridging particles or condensing particles to form large flocs by charge neutralization. Therefore, it can accelerate the sedimentation of particles in the suspension, and has a very obvious effect of speeding up the solution clarification and promoting filtration. Cationic, anionic, non-ionic and other varieties are complete, which can meet the needs of all aspects. Good water solubility, can also be completely dissolved in cold water. Add a small amount of this series of products, you can get a great flocculation effect. Generally, only 0.01-10ppm (0.01-10g/m3) is needed to give full play to the effect. This series of products and inorganic flocculant (polymeric ferric sulfate concentrator, poly
Aluminum chloride, ferric salt, etc.) used at the same time, can show a greater effect.
Ii. Product classification
Anionic polyacrylamide (PAMA) according to different uses and user requirements of product performance can choose different molecular weight use, can be used as: 1, industrial wastewater treatment; 2. Drinking water treatment; 3, starch factory and distillery loss and recovery of sprinkling tank; 4, three recovery of oil displacement agent; 5, profile control water plugging agent; 6, paper auxiliaries
Cationic polyacrylamide (PAMC) is made of vinyl cationic monomer and acrylamide copolymerization, is a linear polymer, can be used for: 1, sludge dewatering; 2, domestic sewage and organic wastewater treatment; 3, water plant high efficiency flocculant; 4, paper strengthening agent; 5, oil field chemical additives
Non-ionic polyacrylamide (PAMN) is made of acrylamide homopolymerization, high purity, low ionization degree, good performance, a wide range of uses. Can be used as: 1, a variety of modified polyacrylamide basic raw materials; 2, textile industry auxiliaries; 3, sewage treatment agent; 4, DAMS, foundations, tunnels and other water plugging chemical grouting agent; 5, sand fixing agent; 6, soil conditioner; 7. Profile control and water plugging agent in oil field; 8. Construction industry, construction glue, interior wall coating and so on.
Amphoteric ion polyacrylamide (PAMCA) is made of vinyl amide and vinyl cationic monomer acrylamide hydrolyzed and copolymerized, by infrared spectrum analysis, the product chain not only has acrylamide hydrolyzed "carboxyl negative charge, but also vinyl positive charge. Therefore, amphoteric irregular polymers with both positive and negative charges on the molecular chain are formed. Can be used as: 1, profile control water plugging agent; 2, the latest water treatment agent; 3, sludge dehydrating agent; 4, paper making chemical auxiliaries
Three, use method:
This product is a polymer linear polymer, especially in the use of powder, when preparing PAM should strive to do the following points:
(1) It is advisable to use neutral water without salts and inclusions;
(2) The use of about 40℃, but not more than 60℃ warm water can accelerate the dissolution of flocculant;
(3) dissolve PAM slowly into the water, a more difficult sol group will appear; If possible, it is better to use step adding method to distribute flocculant evenly.
(4) when polyacrylamide is put into the water should be stirred as soon as possible, so that the agent and water quickly and fully mixed. Stirring can not be too fierce, should avoid strong mechanical stirring and pump, otherwise it will make 3 polymer degradation, stirring should be 100-300r /min is appropriate;
(5) The solubility is controlled at 0.5%-0.8% according to the dry base, and diluted to 0.08% before use;
(6) How much to use, how much to dissolve, dilute solution is easy to degrade.
Storage method and transportation
(1) PAM storage should be kept sealed, dry, avoid light, prevent high temperature, to avoid moisture absorption, degradation deterioration;
(2) PAM should not be stored in direct contact with metal containers, should be lined with plastic;
(3) PAM storage period should not be too long, otherwise it will lead to aging degradation, the more dilute the general concentration, the shorter the validity period.
7. Note: PAM itself is not toxic only when inhaled more than 5 ‰ due to gastrointestinal mucous membrane absorption of nutrients is sticky. Residual acrylamide monomer in PAM is toxic and should be strictly controlled in food application.
8. Packaging: colloid 25Kg/ bag;
Dry powder 25Kg/ bag, three in one composite bag outside, with polyethylene lined bag.