Our Products
Polyacrylamide /
Application of anionic polyacrylamide (APAM)magnafloc LT27 in drinking water treatment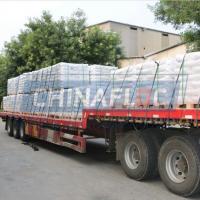 Application of anionic polyacrylamide (APAM)magnafloc LT27 in drinking water treatment
magnafloc LT27 is a kind of anionic polyacrylamide with 23% hydrolysis degree and high molecular weight .mainly used for potable water treatment.
Anionic polyacrylamide (APAM) appears as a white powder with molecular weight ranging from 6 million to 25 million.
Anionic PAM water solubility, can be dissolved in any proportion in water and insoluble in organic solvents. The effective PH range is 4 to 14. It is highly polymer electrolyte in neutral alkaline media and is sensitive to saline electrolytes and can cross-link with high-priced metal ions to form insoluble colloids.
Anionic polyacrylamide is a water-soluble polymer. Mainly used for all kinds of industrial wastewater flocculation sedimentation, precipitation clarification treatment, such as iron and steel plant wastewater, electroplating plant wastewater, metallurgical wastewater, coal washing wastewater and other sewage treatment, sludge dewatering, etc.
Anionic polyacrylamide is used for industrial wastewater treatment
For suspended particles, higher concentration, particles with positive charge, PH value of water neutral or alkaline sewage, iron and steel plant wastewater, electroplating plant wastewater, metallurgical wastewater, coal washing wastewater and other sewage treatment, the effect is better. Drinking water treatment: The water source of many waterworks in China comes from rivers, with high sediment and mineral content and turbidity. Although filtered by precipitation, it still cannot meet the requirements. Flocculant needs to be added, and the dosage is 1/50 of inorganic flocculant, but the effect is several times that of inorganic flocculant. It is better to use inorganic flocculant and cationic polyacrylamide for river water with serious organic pollution. Now add anionic polyacrylamide, so that starch particles flocculation precipitation, and then the sediment by the press filter press into cake, can be used as feed, alcohol can also use anionic polyacrylamide dehydration, pressure filtration recovery. Used for mud settlement in river water. Used as dry strength agent in paper making.
Used for papermaking auxiliaries and rate AIDS. Adding trace PAM-LB-3 anionic polyacrylamide into the pump tank before paper making can increase the retention of water fillers and fine fibers on the net by 20-30%. Each ton can save pulp 20-30kg.
For example:
In the process of coal washing, a large amount of waste water is generated, which directly pollutes the environment. It must be recycled after settling, and it is also very valuable to recycle the water slime, but it takes time and effort to recover by natural settling, and the water is not clear.
In addition, anionic polyacrylamide in the incense industry application is also more and more popular, anionic polyacrylamide product features: good solubility, high viscosity, strong toughness, flammable (less) smoke, combustion without odor, non-toxic and other characteristics; Product performance is stable, avoid other plant rubber powder and common starch due to different origin, time, uneven bonding quality, in the incense industry production need to repeatedly adjust the formula, so as not to cause product quality instability phenomenon; Incense products have smooth appearance, good shape and are not easy to break; Especially its cold water gelatinization, no need to cook paste, the material directly mixed evenly, add water mixing can be produced, and add water mixed material after a long time to place there will be no material dry hard can not use the phenomenon, effectively save energy and convenient production operation.
Effect:
Use of this product is made of sweet (incense products) smooth appearance, no fault, no mildew spot, bending force, after baking products nice colour, do not fade, ignition time, good combustibility, iron gear disk not "break" the flameout, beneficial to the improvement of the mosquito-repellent incense effective ingredients of scatter rate and can reduce the loss in the process of drying products, at the same time, Can greatly reduce the labor intensity of workers, improve work efficiency. In addition, the product is pollution-free to the environment and can meet the requirements of green environmental protection.
Economic benefit: raw material cost can be reduced by 5-12% and energy consumption can be saved by 20-30%.
Anionic polyacrylamide applications
1. Profile control and water plugging agent in oil field, combined with crosslinking agent, stabilizer and coagulant, generate high strength coagulant glue and water plugging agent with important polymerization gel and resin gel. The gel time can be controlled to adapt to different geological conditions by blocking formation pores and fractures through adhesion and physical plugging and adjusting the proportion.
2, anionic polyacrylyl various oil, organic, inorganic, sewage, complex sewage treatment. In the PH variable sewage system, the use effect of single ion polyacrylamide is far less than the synergistic effect of amphoteric ions, if the use of cationic polyacrylamide and anionic polyacrylamide will react to produce precipitation. So amphoteric ion products are ideal;
3, anionic polyacrylyl used for sludge dehydration;
4, anionic polyacrylyl used in papermaking additives.