Our Products
Polyacrylamide /
Non-ionic polyacrylamide factory | non-ionic polyacrylamide supplier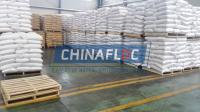 Non-ionic polyacrylamide factory | non-ionic polyacrylamide supplier
Polyacrylamide (PAM) is a water-soluble polymer, insoluble in most organic solvents, with good flocculation, can reduce the friction resistance between the liquid, according to the ionic characteristics can be divided into non-ionic, anion, cation and amphoteric type of four types. The uses of polyacrylamide are described as follows:
A, polyacrylamide for oil exploitation:
(a) Polyacrylamide as an oil displacement agent:
The use of polyacrylamide as displacement agent plays an important role in tertiary oil recovery methods for enhancing oil recovery. The function of polymer is to adjust the rheological properties of injected water, increase the viscosity of driving fluid, improve the efficiency of water flooding wave generation, reduce the permeability of water phase in the formation, and make water and oil flow forward uniformly. When micellar/polymer flooding is used, microemulsion with ultra-low interfacial tension combined with surfactant and additives is injected into the water injection well, followed by polymer solution, and finally water injection. Water moves forward as a plunger flow to displace residual oil dispersed in the pores and improve recovery. Polyacrylamide used for tertiary oil recovery is generally 10%-50% by weight, and its relative molecular weight ranges from hundreds of thousands to more than ten million. Large oilfields in China, including Daqing, Shengli, Liaohe and Dagang, have entered the middle and late stage of production, and the comprehensive water content of produced oil is increasing day by day. In order to stabilize oil production in eastern China, it is imperative to adopt tertiary oil recovery technology to improve oil recovery rate and ensure stable oil production. The experiment of polyacrylamide flooding in Daqing oilfield has been popularized in industry and achieved good oil increasing effect.
(b) Polyacrylamide as a water plugging regulator:
In the process of oilfield production, due to the heterogeneity of the formation, the problem of water flooding often occurs, and water plugging is needed. The essence of water plugging is to change the seepage state of water in the formation, so as to reduce the oil field water production, maintain the formation energy, and improve the ultimate oil recovery. Polyacrylamide chemical water plugging agent has the selectivity of oil and water permeability, oil permeability can be reduced by up to 10%, and water permeability can be reduced by more than 90%. Selective water plugging this feature is not other water plugging agent, usually according to the formation type to choose the appropriate polyacrylamide molecular weight. For reservoirs with good homogeneity and high average permeability, polyacrylamide with medium molecular weight of 5x106-7x106 can be selected. High molecular weight 10x107 polyacrylamide can be selected for fractured reservoirs with low permeability of bedrock or reservoirs with large permeability changes. Polyacrylamide can not be crosslinked when used, but also can be crosslinked with aluminum salt, chromium salt, zirconium salt and other gel use, but also can add some resins to form a mutually capacitive polymer network, so that it has higher temperature resistance. This method has been applied to water plugging of high water-cut carbonate bottom water reservoir in China and achieved obvious results. Polyacrylamide can also be used to adjust the water absorption profile in the formation and block large pores. Good results have been obtained in practice.
(c) Polyacrylamide as drilling fluid adjuster:
As a drilling fluid regulator, polyacrylamide is often partially hydrolyzed polyacrylamide Hp, which is hydrolyzed from polyacrylamide. Its function is to adjust the rheological property of drilling fluid, carry cuttings, lubricate drill bit, reduce fluid loss and so on. The low weight of polyacrylamide drilling mud reduces pressure and clogging of hydrocarbon zones, makes it easier to find hydrocarbon zones, and facilitates drilling. Drilling rates are 19% higher than conventional mud and about 45% higher than mechanical drilling rate. It also significantly reduces stuck drillers, reduces equipment wear, and prevents lost circulation and collapse
(d) as a fracturing fluid additive. Fracturing technology is an important stimulation measure for tight formation development. The fracturing fluid made of methylene polyacrylamide crosslinking is widely used because of its high viscosity, low friction resistance, good sand suspension ability, small filtration, good viscosity stability, less residue, wide supply and convenient preparation and low cost.
Two, polyacrylamide for water treatment:
The amide group of polyacrylamide can form hydrogen bonds by affinity and adsorption with many substances. High molecular weight polyacrylamide formed a "bridge" between the adsorbed particles, the formation of floc, conducive to particle sinking. Polyacrylamide flocculant can adapt to a variety of flocculation phenomenon, its dosage is small, high efficiency, less sludge generated, easy post-treatment, has special value in some cases. The raw water treatment, urban sewage treatment and industrial wastewater treatment industries in China all use polyacrylamide as flocculant to varying degrees. Polyacrylamide is the most widely used and most efficient polymer organic synthetic flocculant.
Three, polyacrylamide used in paper making.
Polyacrylamide in the paper industry is mainly used in two aspects: one is to improve the retention rate of filler, pigment, etc., in order to reduce the loss of raw materials and environmental pollution; The second is to improve the strength of paper, including dry strength and wet strength. In addition, the use of polyacrylamide can also improve the tear resistance and porosity of paper, to improve visual and printing performance.
Four, polyacrylamide pharmaceutical industry:
One of the characteristics of PAM hydrogels is that at a certain critical temperature, its swelling in water with a small change in temperature changes dramatically, volume changes can reach tens to hundreds of times. This property can be used in the extraction process of aqueous solution, avoiding high temperature, which is very valuable for some organic or biological material extraction. PAM hydrosol can also be used for drug control release and enzyme embedding, protein electrophoresis, artificial organ materials, contact lenses and so on.
Five, polyacrylamide used in mining and metallurgy industry:
The mining process usually uses a lot of water, and the useful solids in the water are often recovered and the waste water is purified and recycled. The application of polyacrylamide flocculation can promote the sinking of aggregates, the clarification of liquids and the dehydration of mud cakes, thus improving production efficiency, reducing tailings loss and water consumption, reducing equipment investment and processing costs, and avoiding environmental pollution. The extraction of uranium ore is one of the earliest important applications of polyacrylamide. When leachate uranium ore with acid or sulfonate solution, polyacrylamide is very effective in the concentration and filtration of leachate.
Six, polyacrylamide used in textile, printing and dyeing industry:
Polyacrylamide can be used as sizing agent and finishing agent for fabric treatment, as well as a protective layer that can produce smoothness, crease resistance and mildew resistance. With its high moisture absorption, it can reduce the breaking tension of spinning yarn. Polyacrylamide as post-treatment agent can prevent static electricity and flame retardant fabric. Used as printing and dyeing auxiliaries, polyacrylamide can make the product adhesion fastness, high brightness, but also as a bleaching non - silicon polymer stabilizer
Seven, polyacrylamide other applications:
Water sensitive gel: polyacrylamide hydrogel swelling in water at a critical temperature with a small change in humidity sharp mutation, volume change can reach dozens to hundreds of times. This property can be applied to the extraction of some aqueous solutions without the use of high temperature, which is valuable for the extraction of some organic or biological substances. Food processing: polyacrylamide can be used for the sugar industry using chemical agents, moreover, can be used for all kinds of meat, fruits and vegetables cleaning water purification as well as the clarification of wine and beer, using high molecular weight polyacrylamide (hydrolysis degree of 25% 30%, as flocculating agent can be used for syrup clarification treatment, can be as much as possible without sugar, to improve quality. Electroplating industry: in electroplating solution, the addition of polyacrylamide can make the metal precipitation uniformity, make the coating more bright.
Absorbent resin: Super absorbent resin has been widely used in industry, agriculture and daily life, this type of polymer gel has high strength, water absorption can reach hundreds of times, even thousands of times more than the weight of the body. In recent years, the demand for polyacrylamide is also growing rapidly due to the growth of high absorbent resin in the production of diapers and sanitary pads.