Our Products
Product Center /
Application of polyaluminium chloride in industrial wastewater and drinking water treatment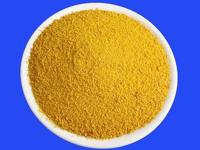 Application of polyaluminium chloride in industrial wastewater and drinking water treatment
Polyaluminium chloride is a new type of the current international general, inorganic polymer coagulant, chemical general formula for [Al2 (0 h) nCl6 -n] m, mainly by compressing double, adsorption mechanism, such as electric neutralization and adsorption bridging, sediment trap effect, make the tiny suspended particles in water and colloidal stability, aggregation, flocculation, coagulation and sedimentation purification treatment effect. The properties of polyaluminum chloride are better than traditional low molecular inorganic salts such as aluminum sulfate and ferrous sulfate. In addition, less dosage, large alum flower, in addition to C0D, color and suspended solids performance is good.
Nowadays, polyaluminum chloride has developed into a mature flocculant with large market sales, and has the trend of gradually replacing the traditional flocculant. Western European countries began to produce polyaluminium chloride in 1976, used as industrial sewage treatment flocculant; The United States and Canada approved it for urban water supply and industrial sewage treatment in 1983. Polyaluminum chloride is a commonly used coagulant in water treatment, which has remarkable effect on water treatment and plays an important role in the purification of drinking water and industrial wastewater. We commonly used polyaluminum chloride content: 26%, 28%, 30%. Different polyaluminium chloride content, use is also different, corresponding polyaluminium chloride price is also different.
Polyaluminum chloride polyaluminum chloride content different uses of the use range is also different, users can choose the corresponding polyaluminum chloride according to their different uses. The following is a summary of the uses of polyaluminium chloride with different contents:
1. Polyaluminum chloride with AL2O3 content above 30%. Suitable for drinking water industry. Specific industries include: tap water plant, pure water plant, pharmaceutical plant, food processing plant and other water quality treatment requirements are relatively high industry;
2. Polyaluminum chloride with AL2O3 content of 28% is suitable for industrial sewage treatment. Specific industries include: oily sewage, printing and dyeing factory, papermaking sewage, steel mill sewage, coal washing plant, plastic factory and other industries with high turbidity water quality;
3, AL2O3 content in 26%, and 26% below the polyaluminum chloride, suitable for urban domestic sewage treatment. This content of polyaluminium chloride is suitable for the treatment of municipal sewage with low turbidity.
Use of polyaluminium chloride
1, inorganic polymer compound, soluble in water, has a certain corrosive.
2. According to the quality of raw water, a small test should be done before use to get the best dosage (reference dosage range :20-800ppm);
3, for the convenience of calculation, the experimental test solution configuration according to the weight volume ratio (W/V), generally with 2 ~ 5% as the best. Such as 3% solution. Call PAC3g, put it into a clean 200ml measuring cylinder, add about 50ml water, dilute it to 100ml scale after dissolving, and shake it well.
4, when using liquid products with 5-10% liquid water, solid products with 3-5% liquid water (according to the weight of the commodity);
5. Mix and dissolve according to solid: water =1:5(W/V), then dilute with water to the above concentration.
Polyaluminium chloride concentration matching method
When solid polyaluminium chloride is diluted into liquid in daily use, several commonly used polyaluminium chloride concentration ratio methods are as follows:
Step 1, according to the condition of raw water, do a small test before use to get the appropriate dosage. Test solution configuration according to the weight ratio (W/W), generally with 2 ~ 5% is the best. For example, with 3% solution: solid 3g of polyaluminum chloride, fill the 200ml measuring cylinder, add water about 50ml, dilute with water to 100ml scale after dissolving, shake well.
Second step, when producing polyaluminum chloride, mix and dissolve according to the weight ratio of polyaluminum chloride solid: water = 1:9 to 1:15. The solution with alumina content less than 1% is easy to hydrolyze, which will reduce the use effect, and the concentration is too high to add evenly.
Three steps, dosing according to the small test obtained by the appropriate dosing amount dosing. If there are less alum flowers and large residual turbidity in the sedimentation tank, the dosage is too little. If the alum flower in the sedimentation tank is large and upturned, and the residual turbidity is high, the dosage is too large, and it should be adjusted appropriately.
Application field of polyaluminium chloride
All kinds of industrial wastewater treatment (papermaking, printing and dyeing, leather, ceramics, metallurgy, mining, oil, fluorine, coal washing, food and other industrial wastewater); Water reuse treatment; Oilfield backwater injection treatment; Circulating cooling water treatment; Industrial water treatment; Urban sewage treatment
Points for attention in polyaluminium chloride
1. Overview of risk: Invasion way: ingestion. Health hazard: this product can stimulate skin and mucous membrane. Inhaling high concentrations can cause bronchitis and, in individuals, bronchial asthma. It can cause oral erosion, gastritis, gastric bleeding and mucous membrane necrosis. Chronic effects: long-term exposure can cause headache, dizziness, loss of appetite, cough, nasal congestion, chest pain and other symptoms;
2, first aid measures: skin contact: take off the contaminated clothes, wash the skin thoroughly with soap and water. Eye contact: lift eyelid, rinse with running water or normal saline, seek medical advice. Ingestion: gargle with water, drink milk or egg white, seek medical advice.
Fire fighting measures: Fire fighting methods: fire fighters must wear full-body acid and alkali resistant fire suit. Fire extinguishing agent: dry sand.
Leakage treatment: isolate contaminated areas and restrict access. It is recommended that emergency personnel wear dust masks and anti-acid and alkali overalls. Do not contact the spill directly. Small amount of leakage: avoid dust and collect in an airtight container with a clean shovel. Large amount of leakage: covered with plastic cloth and canvas. Remove it under expert guidance.
Polyaluminium chloride storage and packaging
1, plastic woven bag for external use, with plastic film set, each bag net weight of 25kg, but also according to user requirements modified, and liquid poly aluminum chloride sales.
2. It is forbidden to mix, transport and store the product with toxic substances. The product should be stored indoors in a dry, ventilated and cool place without dampness.
3, handling should be careful, solid products storage period of one year.